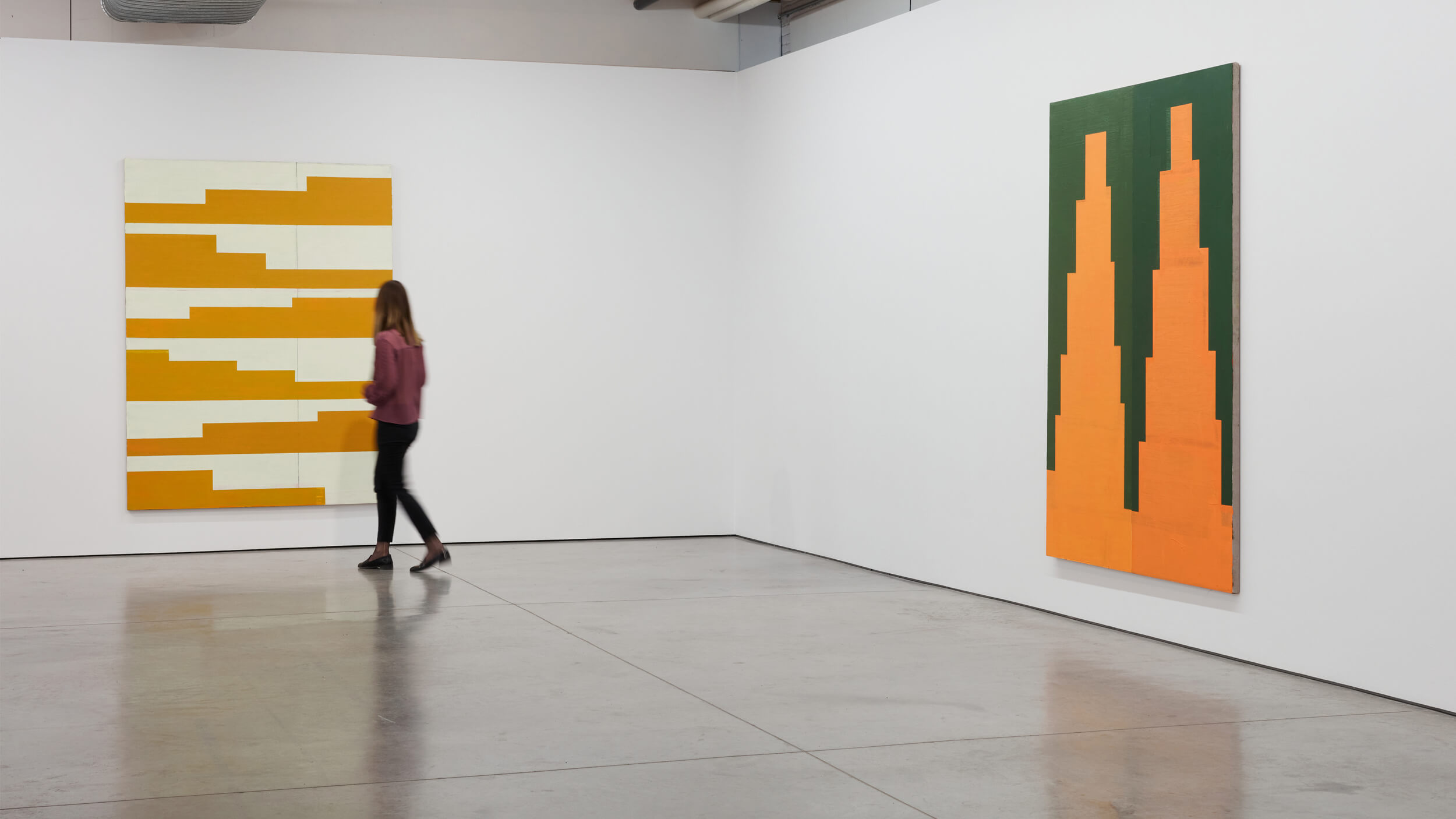 Biography
Shaan Syed's paintings are thorough investigations into simplified forms, texture, and colour. His paintings are recognizable in their tension between the graphic lines of hard-edge abstraction and gestural and personal mark-making. Syed layers paint, sawdust, sand, and, at times, plaster onto the surface of the canvas in order to build up texture, while subsequently peeling it off and forcing it into neat and tightened up lines and sections. Syed often references his own cultural background through his chosen motifs, inserting a nuanced and more pluralistic reading into abstraction. He often scrawls his name or words documented over time into the canvas in English and Arabic, inserting himself and his personal narrative into a tradition of modern abstraction. Syed repeatedly paints a stepped motif, originating from an image of the giant spiral minaret of the Great Mosque of Samarra (Iraq, 9th c. C.E.). This photograph prompted Syed to bring the steps of the Minaret onto the canvas as a device for exploring representation, while the symbolism of the Minaret provided a nod to the artist's personal history and a connection to a history beyond Western abstraction.
"The use of the step initially came about from a desire to divide the canvas. By dividing, I set up a problem of configuring two sides back together. I was drawn to the minaret because it is a cultural signifier; a nod to my own personal upbringing, and one that I am using to explore the shifting nature of seeing."
– Shaan Syed
Shaan Syed was born in Toronto, Canada and now lives and works in London, UK. He holds an MFA from Goldsmiths College in London (2006) and a diploma in Fine Arts from OCAD in Toronto (2000). Syed's recent solo exhibitions were presented at Galeria Nuno Centeno (Porto), FREEHOUSE (London), Kunsthalle Winterthur (Winterthur), Birch Contemporary (Toronto), and Bradley Ertaskiran (Montreal), among others. He has participated in numerous group exhibitions in venues such as The Power Plant (Toronto), Aga Khan Museum (Toronto), PM/AM (London), Nicodim Gallery (Los Angeles), the Art Gallery of Peterborough (Peterborough), and the Roberts Institute of Art (London). Syed is the recipient of the Pollock-Krasner Foundation Award (2013) and the Arts Council of England Project Grant (2013). His work is part of the permanent collections of the National Gallery of Canada (Ottawa), UBS Art Collection (London), Saatchi Collection (London), SoHo House Group (Barcelona), MoMa Library (New York), Goldsmiths College (London), and the RBC Art Collection.
Born in Toronto, ON, in 1975
Lives and works in London, United Kingdom