Kim Dorland
Landscapes, Colour and a Portrait
20.01 – 26.02

2022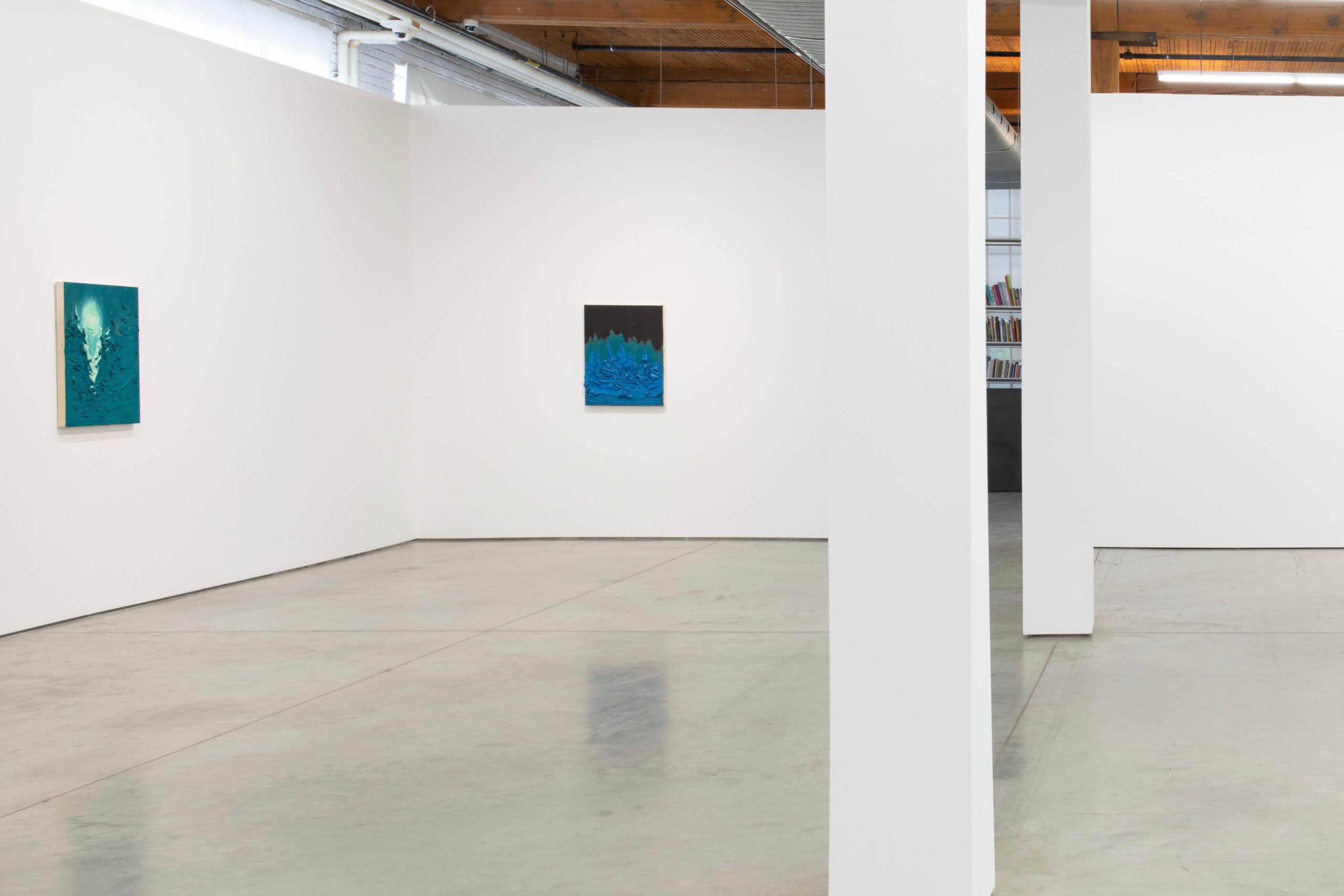 20 janvier – 26 février 2022
Bradley Ertaskiran a l'immense plaisir de présenter Landscapes, Color and a Portrait, une exposition solo du peintre canadien Kim Dorland. Ce nouveau corpus d'œuvres témoigne de l'approche expérimentale de l'artiste, construisant des scènes viscérales à partir d'une accumulation d'épaisses couches de peinture à l'huile aux pigments vibrants.
Les paysages de Kim Dorland mettent en lumière sa prédilection pour les couleurs. L'artiste explore la manière dont une teinte saturée interagit avec une autre, mêlant discordance et harmonie et installant une atmosphère singulière. Des coups de peinture blancs opulents, devenus arbres, s'empilent sur un fond rose vif bourdonnant et vibrant telle une lumière fluorescente. Une fumée sinistre tourbillonne sur un ciel orange, tandis qu'une odeur de débris roussis flotte dans l'air. Les paysages de Kim Dorland ne font pas référence à un lieu précis; ils portent sur les tensions inhérentes à l'acte de regarder, sur l'aura se dégageant de la couleur, de la profondeur et de la texture.
En dépit de l'aversion de l'artiste pour le réalisme, les œuvres de Kim Dorland témoignent tout de même des préoccupations de notre époque, capturant la transition globale en matière d'appréhension de l'urgence climatique: d'une simple inquiétude, elle est devenue une réalité tangible. Si le travail des artistes paysagistes du passé — Tom Thomson, Emily Carr, des influences majeures pour l'artiste — était de dépeindre la nature telle qu'elle est, dans toute sa majesté inaltérable, quel est le rôle des artistes peintres contemporain.e.s face aux réalités environnementales d'aujourd'hui ? Saisir les choses dans leur état de transformation, transmettre l'image saisissante d'un monde embrasé, ou documenter ce qui a été ou ce qui pourrait être?
Les effets d'un monde en transition sont implicites dans le travail de l'artiste ; les paysages de celui-ci ne sont ni un baume au cœur, ni un appel à l'action. Ils ne sont pas optimistes, mais pas non plus désespérés. Les peintures de Kim Dorland ne tentent pas d'incarner une pensée précise ou de prescrire une mission, mais représentent plutôt les préoccupations vastes de l'artiste en ces temps turbulents.
Kim Dorland. né à Wainwright, vit et travaille à Toronto. Dorland a exposé à travers le Canada et à l'international. Il a présenté son travail dans plusieurs institutions culturelles telles que la McMichael Canadian Art Collection (Vaughan), Contemporary Calgary et le Museum of Contemporary Art Denver. Ses œuvres se trouvent dans des collections publiques telles que le Musée des beaux-arts de Montréal, le Musée d'art contemporain de Montréal, The Blanton Museum of Art (Austin), The Glenbow Museum (Calgary), Museum of Contemporary Art San Diego ainsi que de nombreuses collections privées en Europe, aux États-Unis et au Canada.
Pour consulter le profil de Kim Dorland, veuillez cliquer ici.