Kim Dorland
Landscapes, Colour and a Portrait
20.01 – 26.02

2022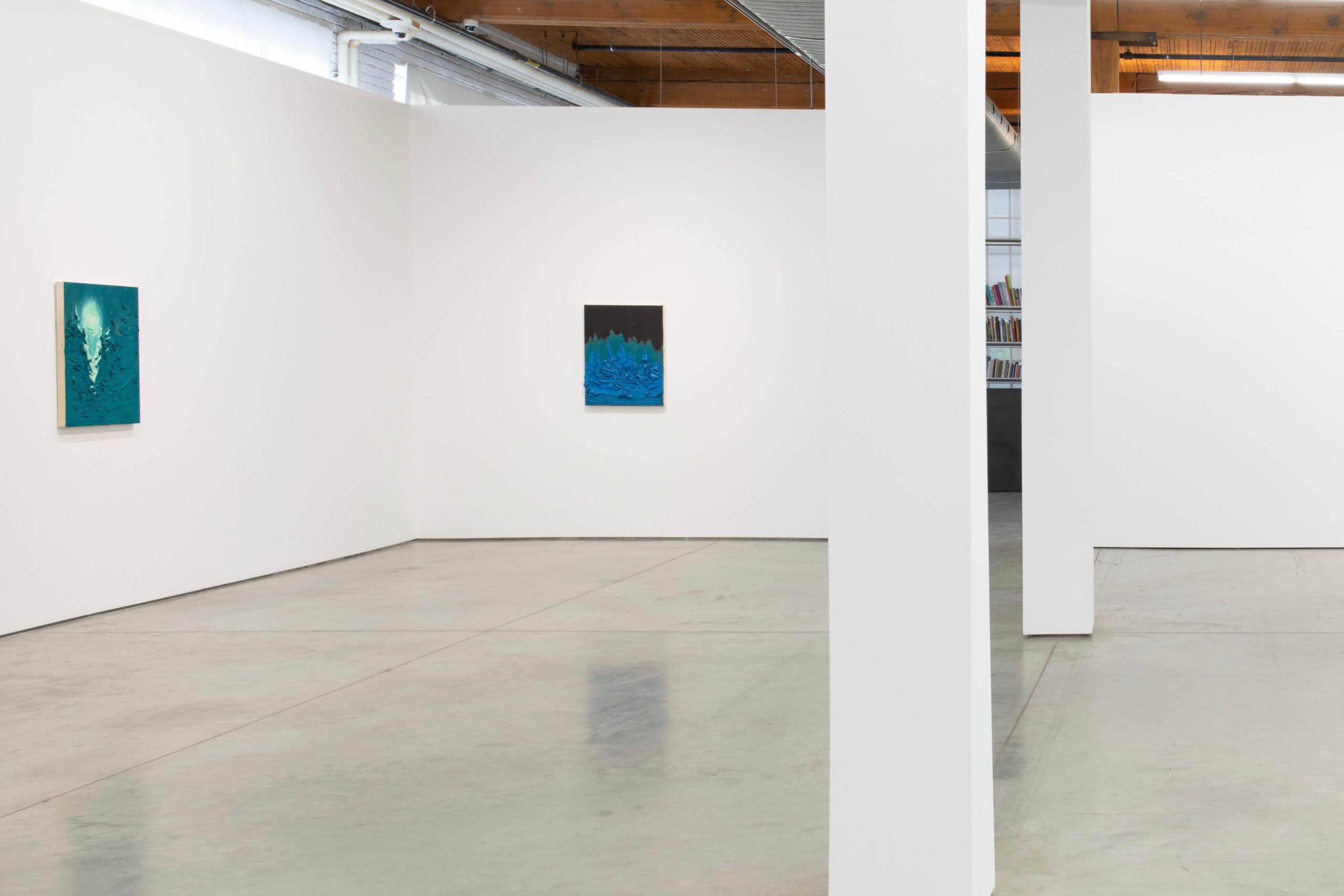 January 20 – February 26, 2022
Bradley Ertaskiran is thrilled to present Landscapes, Colour and a Portrait, a solo exhibition by Canadian painter Kim Dorland. The exhibition features a collection of new paintings that reflect Dorland's experimental approach, creating scenes made of a buildup of thick layers of oil paint in vibrant pigments, whose effect is above all visceral.
Dorland's landscape paintings are a testament to the artist's dedication to colour. Dorland explores the way one saturated hue interacts with another, tipping the scales between jarring and harmonious, always eliciting a certain ambiance. White gluttonous paint strokes turned trees are stacked atop a bright pink background that hums and vibrates like a fluorescent light. Billowing ominous smoke swells across an orange sky, the smell of singed debris hanging in the air. Dorland's landscapes are not a distinct place or setting; they are about the tension in the act of viewing, the aura exuded from colour, depth, and texture.
Yet despite this aversion to realism, Dorland's landscapes reflect the tension of the moment, harnessing the global shift from climate emergency as a mere worry to a tangible reality. If the job of Master Landscape Painters of the past—Tom Thomson, Emily Carr, both influential to Dorland—was to reflect nature to the viewer as-is, in all its unalterable majesty, what is the contemporary painter's role against today's environmental realities? To paint things as they are changing, the stark image of a world ablaze, or to reference what once was or could be?
For Dorland, the effects of a changing world are implicit in his landscapes; they are neither comforting, nor a call to action, not hopeful, but not perilous. Dorland's paintings do not attempt to depict a finished thought or mission, but rather portray the artist's broad, messy concerns for a turbulent time.
Kim Dorland was born in Wainwright and lives and works in Toronto. Dorland has exhibited extensively throughout Canada and internationally. Solo exhibitions have been presented in cultural institutions such as the McMichael Canadian Art Collection (Vaughan), the Contemporary Calgary and the Museum of Contemporary Art Denver. Dorland's work is found in public and corporate collections including Montreal Museum of Fine Arts, Montreal Museum of Contemporary Art, Blanton Museum of Art (Austin), The Glenbow Museum (Calgary), Museum of Contemporary Art San Diego, and numerous private collections in Europe, the United States and Canada.