Veronika Pausova
Reversible Lining
11.11 – 18.12

2021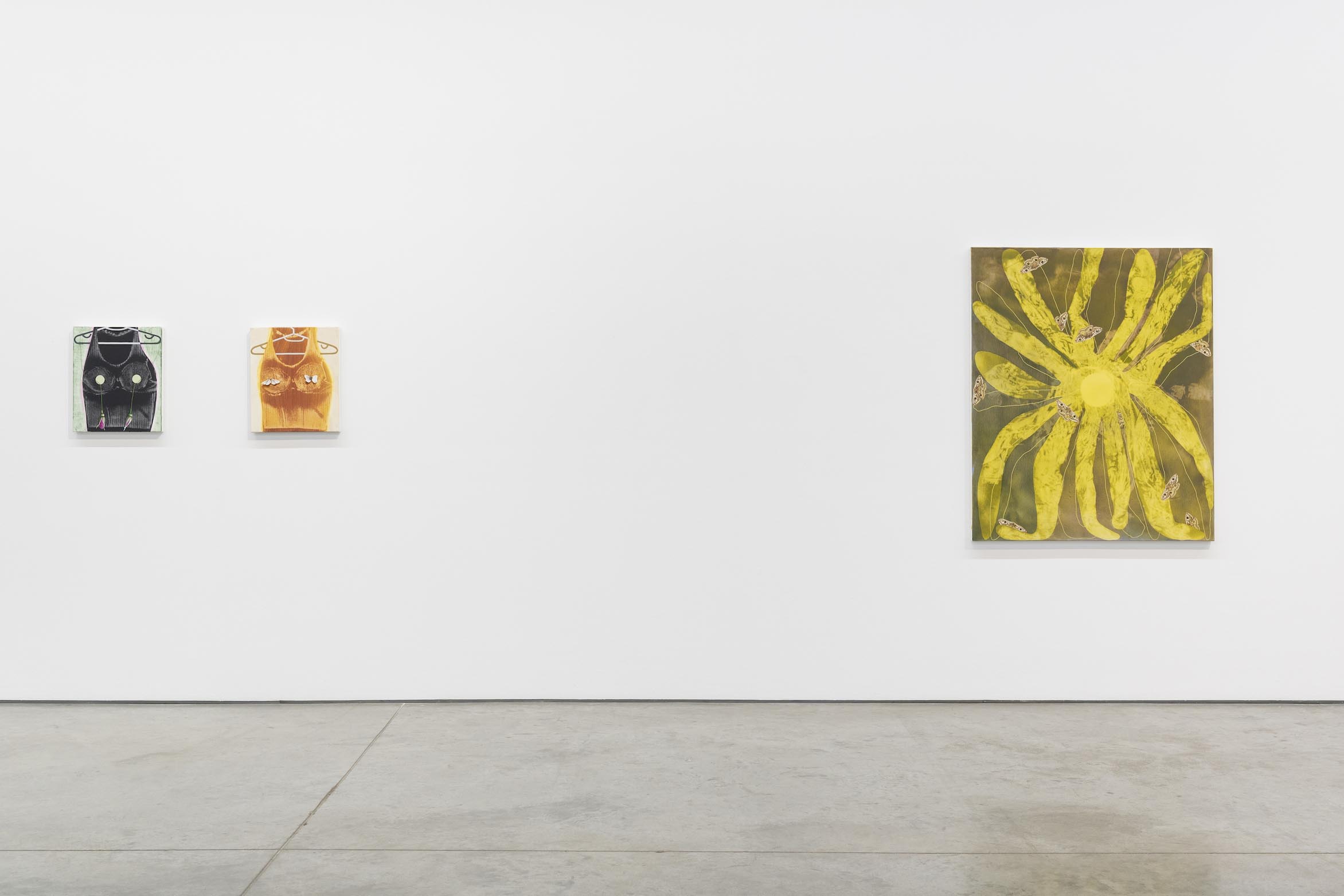 November 11 to December 18, 2021
I read a story about the poet Percey Shelley, husband of Mary Shelley, ages ago when I was reading about the history of the vampire. The story is that Percey, Mary, and some other famous writers and artists were holidaying together in an old castle and telling each other scary stories. Percey got scared by one of these stories and ran out of the sitting room screaming. He'd imagined that one of the women in the sitting room had eyes on her breasts. I'm not sure where I read it, but I loved this idea that breasts could look back under the male gaze.
– Veronika Pausova
Veronika Pausova is a short storyteller, if a story's parts could be disarranged and filed into paintings that start at the front and get told to the back.
One shoe pins down another shoe, flattens it. The two form a tense negotiation between the real world and the imagined. They distinguish their own planetary existence as they arbitrate beneath the moon. Players variously shimmer and recede, shuttling us between blueprint, shadow, and landscape. Two of the biggest paintings (what Pausova calls "thin coverings," for their outdoor, additive process) feature sprinklers that mist the scene, crude cloud-makers that mechanically water but also paint the landscape in which they swim. The colours sprout from their own font and justify their own flood. A story gets told like this, and understood: one thing couldn't arrive without all the parts that come before it. But neither could these parts exist without the ones that end.
A series of breasts arrive fully frottaged, tasselled, and winged. They are self-presenting: their ludic faces foreclose against ours – detecting us instead. A script-reversal, then. In Two Help, Two Cradle, a set of rubber-gloved hands perilously catch the world like a soapy plate. These hands are themselves marionetted by another set, their precarious handling edging in from a before-place – a place before the thighs that threaten to part the universe. What begins this, or finishes it? Whatever story cascades the frame.
– Sky Goodden
Veronika Pausova was born in Prague, Czech Republic and lives and works in Toronto, Canada. She received her BFA from Glasgow School of Art in 2009 and her MFA from Virginia Commonwealth University in 2013. She has presented solo and two-person exhibitions at the Sunday Painter in London (UK), Simone Subal in New York (USA), Hunt Kastner in Prague (Czech Republic), Franz Kaka in Toronto (Canada), Tatjana Pieters in Ghent (Belgium), Motel Gallery in Brooklyn (USA) and SARDINE Gallery in Brooklyn (USA). Pausova has been included in group exhibitions at the Remai Modern in Saskatoon (Canada), Oakville Galleries in Oakville (Canada), Andrehn Schiptjenko in Stockholm (Sweden), Peana Projects in Monterrey (Mexico), and Bureau in New York (USA). Veronika Pausova will have her first North American Institutional solo exhibition opening in January 2022 at the Esker Foundation (Calgary).