Preston Pavlis
Still ready to curse and rage
25.06 – 7.08

2021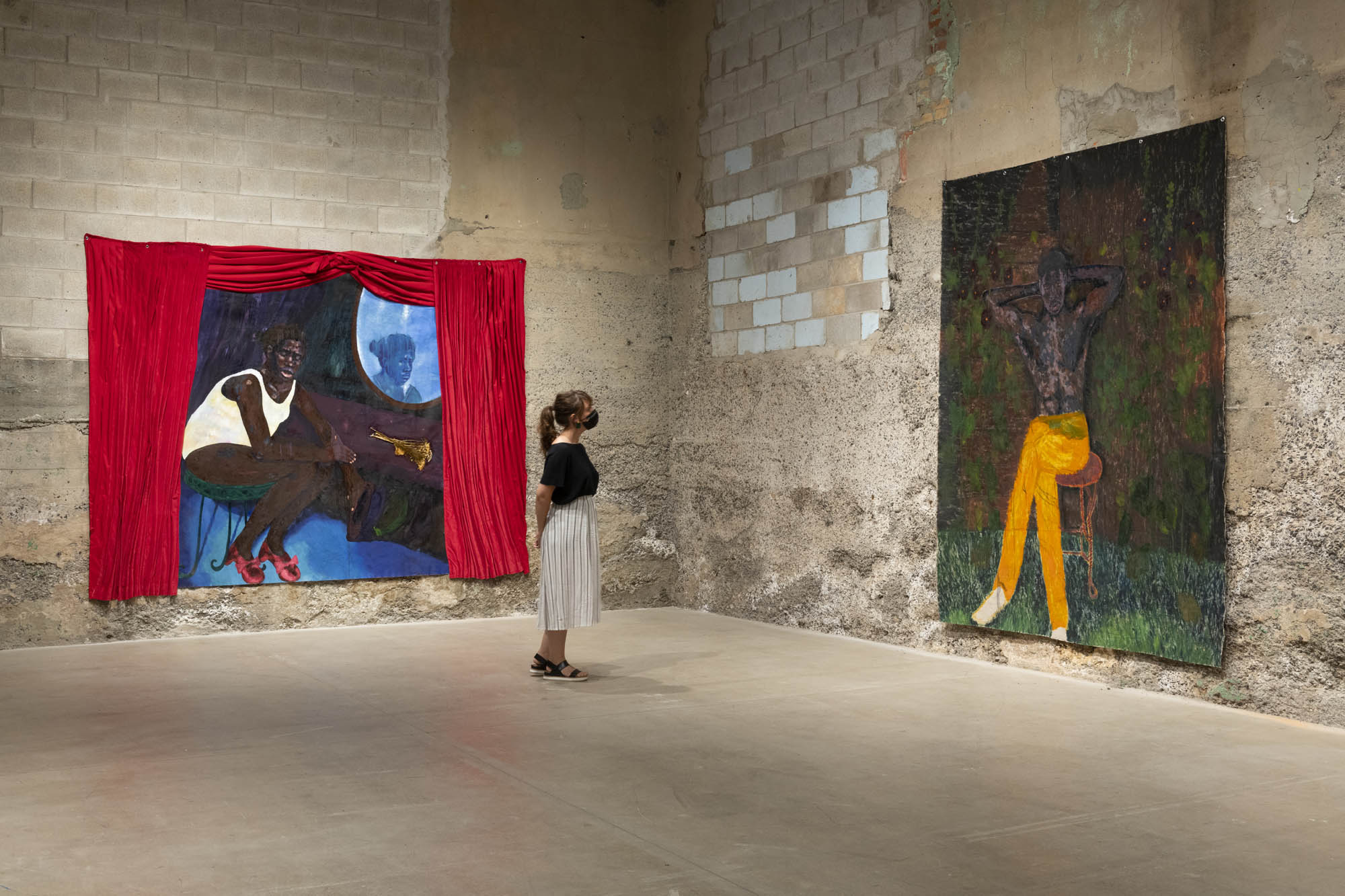 June 25 to July 31, 2021
Bradley Ertaskiran is pleased to present Still ready to curse and rage, Preston Pavlis' first solo exhibition.
Still ready to curse and rage is a reflection on doubt, yearning and self-assurance. Through poetic associations across form and content, the nine works in the exhibition cycle between moments of troubled anguish and fleeting radiance. This exhibition marks the artist's continued interest in merging painting, textiles and collage, culminating in works that shift in scale and material presence.
The title of the exhibition is a line from the poem "The Albuquerque Graveyard" by American poet Jay Wright, in his book Soothsayers and Omens. In the poem, Wright revisits a cemetery he has frequented for years. Passing the mounds of personal heroes and members of his own family, he searches the past for a resolution to his own internal conflicts. Again, his venture leaves him without answers to his position in the world.
Similar to Wright's conviction towards introspection, Pavlis' work is rooted in the search for faithful expression through an inward gaze. This search often yields no definitive answers, as depicted in when the jig is up… in which a dancer sits backstage before a mirror contemplating the validity of her artistic pursuits. Her reflection breaks away and implicates the viewer in this question, as weighted theatre curtains encroach on the scene. Impressions of the spiritual emerge in the work Inner life where a man sits in a garden with a defiant confidence, surrounded by the blooming eyes of flowering hollyhocks. In Of opalescence, pasted, sewn and quilted fabrics envelop the protagonist as butterflies emerge from her face. Here, personal transformation is a rapture, however her closed eyes hint that this may only be a dream.
Rage is never explicitly defined across the works in the exhibition. Rather, rage coalesces with other emotions behind glassy eyes, as in This is a feeling; it is the angst of a field of flame in And for me…. Rage is one among many sentiments hidden just below the surface of the self, longing to be uncovered through interior pursuit.
Pavlis was born in Loma Linda, California, and currently lives and works in Edmonton, Alberta. Pavlis was Alberta's regional winner of the BMO 1st Art Competition in 2019 and was recently shortlisted to the 2021 Eldon + Anne Foote Edmonton Visual Arts Prize. He has presented his work in group exhibitions at Bradley Ertaskiran, Montreal, at Half Gallery, NYC, and at the John & Maggie Mitchell Gallery, Edmonton. His work has also been included in recent art fair presentations including Frieze New York and NADA Miami.