Rick Leong
Carmanah
28.05 – 27.06

2020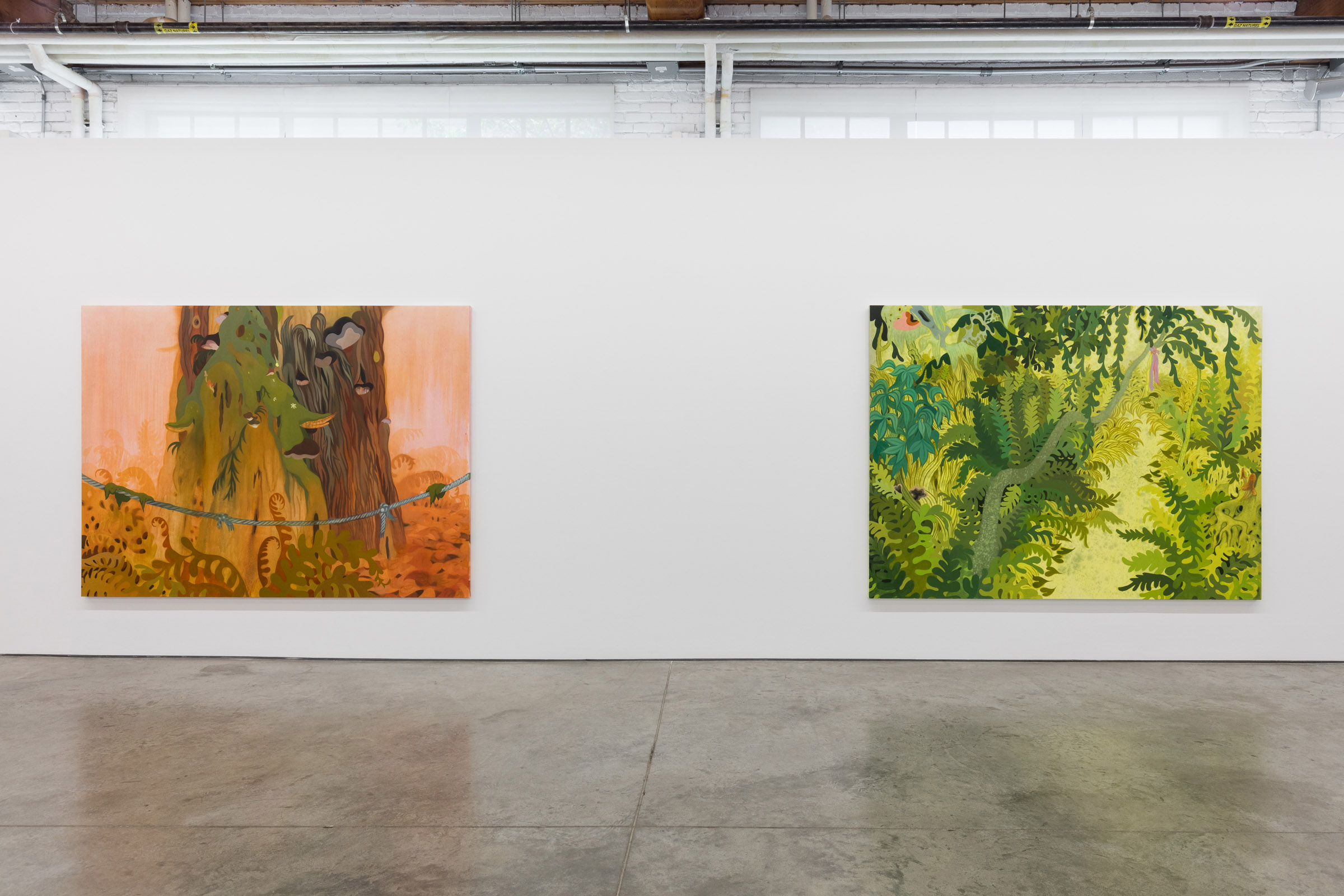 Bradley Ertaskiran is thrilled to present Rick Leong's solo exhibition Carmanah. In these critical times of climate awareness, Leong's decades long investment in landscape painting feels particularly pertinent. Focused on two new bodies of work, this exhibition features vast ocean scenes and immersive landscape paintings that are directly inspired by the Carmanah old growth forest located on the west coast of Vancouver Island, in Ditidaht First Nation ancestral territory.
Paintings featuring oceanscapes with low horizon lines, paired with thick forest scenes, convey the density of the forest contrasted with the vast sky and immensity of the Canadian west coast's ocean views, reminding one of the largess of the natural world. Carmanah, is an ancient forest and unique coastal biome that was protected as a park in the early nineties, it is reached after traversing several hundred kilometers of clear-cut stretches and mountainsides. When discussing his work, Leong evokes the notion of empathy for the landscape cultivated via an individual's direct relationship with nature that is not about ownership or economic gain. The stark contrast of the razed terrain on the way to this particular protected site and the lush forest it contains is deeply evocative of the effects of the Anthropocene felt throughout the Canadian landscape. Leong's works are like a love letter, a tender address to the places that he knows are vulnerable and at risk, yet instead of presenting them as weak and weary, they are powerful, overgrown, vast, imposing and fantastical. They take on character and grace that is entirely their own and they plunge the viewer into considering the often fraught, tenuous and liminal way that we experience nature today.
Rick Leong (born in 1973, Burnaby, British-Columbia) lives and works in Victoria in British-Columbia. Rick Leong received his BFA from the University of Victoria (2003), and an MFA from Concordia University in Montreal (2007). His thesis work was acquired by the Montreal Museum of Fine Arts in 2007. In 2008, he was a finalist in the Royal Bank of Canada's Painting Competition, touring to the National Gallery of Canada, the Power Plant (Toronto) and the Contemporary Art Gallery (Vancouver). Leong has participated in many group exhibitions at various Canadian and international spaces, including The Art Gallery of Greater Victoria (Victoria), the Montreal Museum of Fine Arts (Montreal) and the Richmond Art Gallery (Richmond). Solo exhibitions include Swell at Empty Gallery (Victoria), The Fourth Pleasure at Parisian Laundry (Montreal) and The Phenomenology of Dusk at The Art Gallery of Greater Victoria (Victoria). He will be included in the upcoming exhibition Relations : Diaspora and Painting, opening in April 2020 at the Phi Foundation (Montreal). His works can be found in numerous collections, including in the Montreal Museum of Fine Arts, the Caisse de dépôt et placement du Québec, ALDO Group, the Canada Council Art Bank and the Art Gallery of Greater Victoria.