Julia Dault
Days of Our Lives
11.09 – 31.10

2020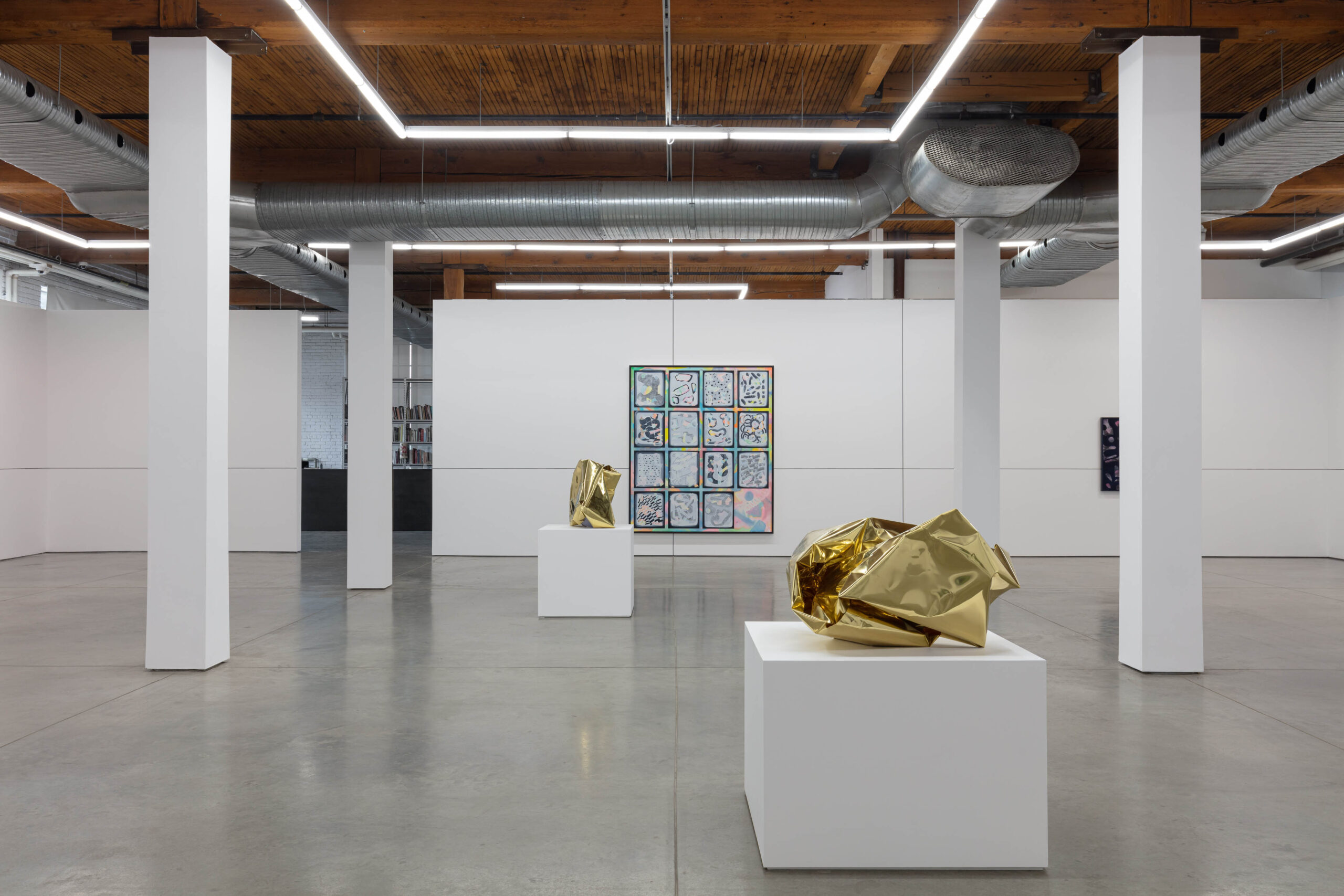 September 10 until October 31, 2020
Free access to the public during the gallery's opening hours.
Bradley Ertaskiran is thrilled to present Days of Our Lives, Toronto artist Julia Dault's first solo exhibition with the gallery. Through new paintings, sculptures, and works on paper, Dault extends her signature abstract visual language and explores notions of interdependence, memory, and the passage of time.
Several paintings use copies as a motif or as a component added to the featured image. In these pieces, duplications and translations underscore the labor that goes into the work, which is one of Dault's longstanding themes. The reciprocity between these component parts also dramatizes the covenant between maker and viewer that "completes" all abstract artworks.
Le Commensal, Restraining Order, and several works on paper employ a calendar-like grid. Scattered on or lurking beneath this framework—the titular Days of Our Lives —one finds expressive gestures, collaged elements, and even hints of the figure. Though resolutely abstract, such a hint recurs in the psychedelically colored negative space of Bird On a Wire (2020).
The well-known Plexiglas and Formica sculptures Dault created in the last decade were as large as she physically could make them. Her newest works, which she colloquially refers to as "hug sculptures," are formed by another kind of bodily constraint. To make them, Dault took sheets of brass, a material with a history of sculptural monumentality, and squeezed, folded, and embraced them to create these crinkled forms. Their uniformly bright but crumpled exteriors are a new variation on her long interest in creating a "dirty Minimalism". Collage-like elements placed inside them produce a kaleidoscopic play of reflected colors.
These intimate, hand-formed sculptures evolved from a series of larger, fabricated wall-based works that became impossible to continue due to the physical distancing required by the COVID-19 pandemic. Two such works, also in brass, extend the language of her earlier wall-based sculptures in related ways.
Throughout the exhibition, Dault finds new approaches to her persistent motifs, calls attention to the passing of time, and reflects on what is gained and lost as an artwork comes to fruition. Days of Our Lives heralds ambitious new directions for a celebrated abstract artist.
Julia Dault (born 1977, Toronto) has exhibited in biennials, museums, and galleries worldwide. Her artworks are in the collections of the National Gallery of Canada, the Solomon R. Guggenheim Museum, the MCA Chicago, and the Art Gallery of Ontario, among other institutions. She has presented solo exhibitions at the Contemporary Art Gallery Vancouver (Canada) and the Power Plant Contemporary Art Gallery (Canada); participated in the New Museum Triennial (United States) and the Gwangju (South Korea) and Marrakech (Morocco) biennials; and been included in group exhibitions at the Witte de With Center for Contemporary Art (Netherlands), the Pérez Art Museum Miami (United States), the Museum of Modern Art in Warsaw (Poland), and, most recently, the Contemporary Arts Center New Orleans (United States). Her first monograph was published by Black Dog Press, the Power Plant, and CAG Vancouver in 2019.
Julia Dault, Days of Our Lives, 2020