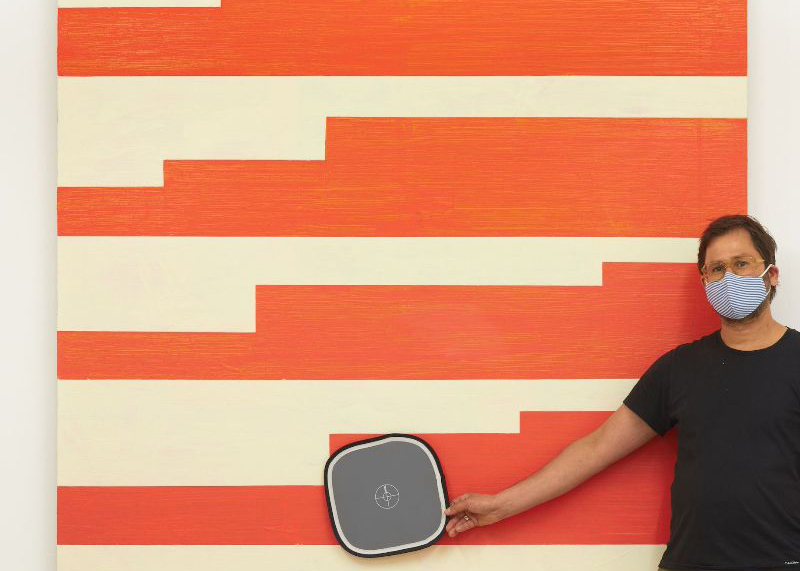 Shaan Syed represented by Bradley Ertaskiran
Bradley Ertaskiran is delighted to announce representation of Shaan Syed.
Shaan Syed's paintings are thorough investigations into simplified forms, texture and colour. He employs a distinctive palette repeatedly into often large-scale paintings that become ongoing series. His paintings are recognizable in their tension between the graphic lines of hard edge abstraction and gestural and personal mark making. Syed layers paint, saw-dust, and, at times, plaster onto the surface of the canvas in order to build up texture, while subsequently pulling it off and forcing it into neat and tightened up lines and sections. He often scrawls his name or words documented over time into the canvas in English and Arabic, literally inserting himself and his personal narrative into a tradition of modern abstraction. Shaan Syed was raised in Canada in a new immigrant family by a Protestant British mother and a Muslim Pakistani father, this upbringing provided insight into how the act of seeing is constantly in flux and dependant on context. He recently began painting a repeated motif of a step, originating from a picture of the giant spiral staircase that forms the minaret of the Great Mosque of Samarra in Iraq.
"The use of the step initially came about from a desire to divide the canvas. By dividing, I set up a problem of configuring two sides back together. I was drawn to the minaret because it is a cultural signifier; a nod to my own personal upbringing, and one that I am using to explore the shifting nature of seeing."
– Shaan Syed.
Shaan Syed was born in Toronto (1975), he lives and works in London, UK. Syed holds a master's degree in Fine Arts from Goldsmiths College in London and a diploma in Fine Arts from OCAD in Toronto, ON. Recent solo exhibitions include Thank you India, Goodbye Pakistan, Hello England at FREEHOUSE, London UK, Maghrib at Parisian Laundry, Montreal, I & I at Kunsthalle Winterthur, Switzerland; Licking Forward Tangerine at noshowspace, London; and CAPITAL! at Michael Janssen Gallery, Berlin. He has participated in numerous group exhibitions including The Other Side at Power Plant, Toronto; Here at the Aga Khan Museum, Toronto; Sam Windett and Shaan Syed at Patrick De Brock, Knokke; Manuel Graf and Shaan Syed at Herrmann Germann Contemporary, Zurich and The Violet Crab at the David Roberts Art Foundation (DRAF), London. Syed has received awards and scholarships from the Pollock-Krasner Foundation, the Elephant Trust UK, Arts Council England, the Canada Council for the Arts, and Jerwood Contemporary Painters UK. In 2018/19, Syed founded and ran Aqbar, a temporary gallery space in East London where he invited his peers to show one painting per exhibition. Syed's upcoming solo exhibitions include Nuno Centeno Gallery, Portugal.