Joseph Tisiga
A voice emerged from an empty room saying "get up", telling me to "get up". The apparition was paralyzing…
7.11 – 19.12

2020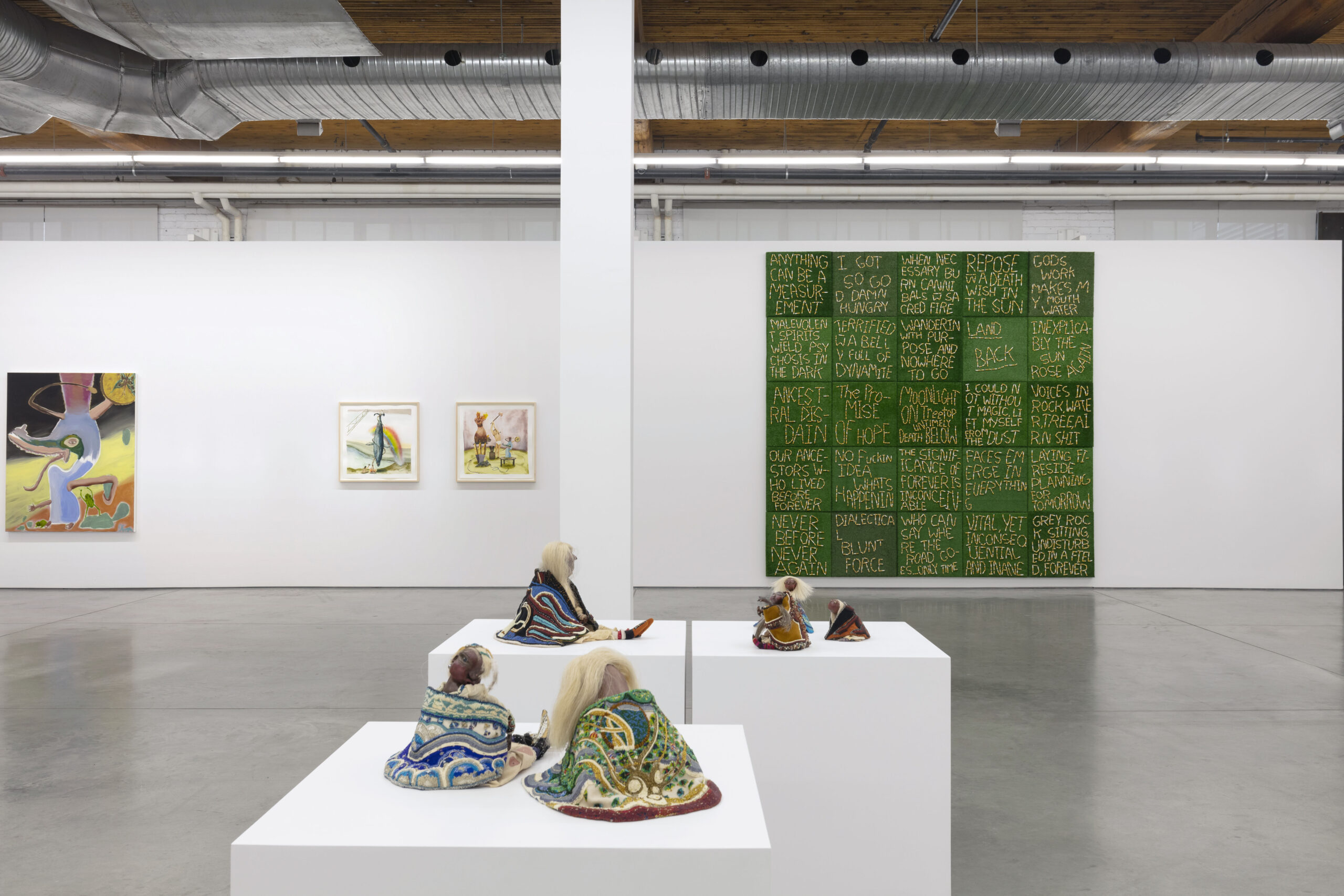 November 7 to December 19, 2020
Free access to the public during the gallery's opening hours.
Bradley Ertaskiran is delighted to present, Joseph Tisiga's solo exhibition A voice emerged from an empty room saying "get up", telling me to "get up". The apparition was paralyzing…
In Joseph Tisiga's most recent body of work there exists a particularly imposing sense of isolation that is nuanced with fantasy and fear. This comes in the form of watercolours on paper (or, drawings as the artist refers to them), several medium and large-scale oil paintings on canvas, a massive grid of artificial turf covered panels laden with plaster cast cigarette butts and a disassembled wall tent. The invisible subtext of this collection of work is rooted in the artist's turbulent relocation from his home in Whitehorse, Yukon to Montreal in the fall of 2019, which converged into the multitude of troubling events defining 2020. Tisiga writes: "The transition from Whitehorse was the beginning of many big changes. My son, his mom and I all left Whitehorse at the same time. He went to live with her in the US, and the arrangement didn't go quite as planned, but has been made more complicated due to COVID-19. Spending months in solitary isolation in a new city, without friends or family around was an unexpected affront. And watching all the social upheaval playout has been a manic roller coaster, the feeling of hopefulness and dread on the day to day without leaving my apartment was chaotic".
For Tisiga, uncertainty, fear and isolation largely summarize his personal and perhaps the collective, psyche at this moment. His impulse has been to 'draw inwardly', to make comprehensible sense of what's happening, but also somewhat evasively compartmentalizing the disillusioning and traumatic passage of this year.
A remarkable number of discarded cigarette butts meticulously rendered in plaster and hand painted unassumingly arranged to form texts – a mix of aphorisms, cryptic statements, and poetic musings – are found on the surfaces of artificial grass panels. Spelling out various statements with discarded cigarette butts is an evocation of a certain kind of ritual, of the accumulation of time and habit, of the continual conversation that one may have with oneself and perhaps a lamentation for the lack of human interaction. Tisiga's drawings and paintings which often seek to grapple with reconciling the present with the past are focused on pensive or vulnerable figures where the weightof the current moment is ever more palpable. The drawing, Some Rise was the thorn in the artist's side throughout the making of the show, frequently baffled by this work, he kept retuning to it. It is one of the only works that features several figures, and an anomaly given – it's at first glance – joyous scene. Incidentally the shifting relationship that Tisiga developed with this work seems to embody two prevalent sentiments that arose throughout the making of the exhibition; paralysis and catharsis in equal measure.
For this exhibition, the artist invited his mother, Sally Tisiga, to exhibit several of her 'Untraditional dolls', characterized by meticulous and expressive beadwork and hand-sculpted bodies. Describing the spiritual attribution informing her sculptures, Tisiga writes "They arise out of ancestral memory as a sacred expression of First Nation Holy Spirits known variously as Grandmothers, Holy Ones, Protectors and Messengers. Connection and relationship with the Holy Ones are there for all seekers, and is especially precious in the strange times we live in."
Joseph Tisiga was born in 1984 and is a member of the Kaska Dena Nation, he studied at the Nova Scotia College of Arts and Design. Recent exhibitions include those held at the Audain Art Museum (Whistler, BC), the Kitchener-Waterloo Art Gallery (Kitchener, ON), Yukon Art Centre, the National Gallery of Canada (Ottawa, ON), the Winnipeg Art Gallery (Winnipeg, MB), MASS MoCA (North Adams, MA, USA), the Museum of Contemporary Native Arts, (Santa Fe, NM, USA), the Ottawa Art Gallery (Ottawa, ON) and at the West Vancouver Museum (Vancouver, BC). Tisiga's work is found in institutional collections such as the National Gallery of Canada, the Audain Art Museum, the Musée des Beaux-Arts de Montréal as well as important corporate and private collections throughout Canada and the United States. Joseph Tisiga was named a REVEAL Indigenous Art Award winner in 2017. He was a Sobey Art Award winner in 2020. Joseph Tisiga currently has a solo exhibition at the Musée d'art de Joliette (Joliette, QC) and he will be the subject of a solo exhibition at the MSU Broad Museum in 2021 (East Lansing, MI, USA).
Sally Tisiga was born in 1960 in Lower Post, BC and is a member of the Kaska Dena Nation. She is a survivor of Canadian Indigenous Sixties Scoop mass apprehensions from birth families and communities. She is Mother to Joseph and Jess and Grandmother to Edera and Novak and has been a social worker within First Nation organizations since 1994. Tisiga has focused her support work within contemporary and traditional art methods, as well as advocated on behalf of displaced Indigenous people. The series 'Untraditional Dolls' began in 2009, following the birth of her granddaughter in 2008 to pass on a reinterpretation of ancestral connections.
This exhibition is presented in collaboration with Pictura : Painting…in Montreal's image.
Bradley Ertaskiran acknowledges SODEC's support in organizing this exhibition.
Charron, Marie-Ève. Le désoeuvrement créatif de Tisiga, Le Devoir, December 15, 2020, (in French)